Internal Communications Campaign of the Year 2015
Toyota initiated a campaign to bring its four existing North American headquarter operations under one roof in a new location.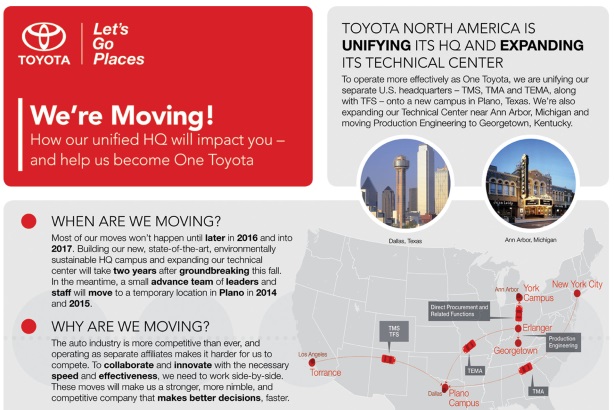 ROI Communication, North Star Communications, and Toyota Motor North America
The Launch of the One Toyota Initiative
Toyota is a company that has little history of managing large-scale change. But last spring, the automobile company initiated a campaign called One Toyota to bring its four existing North American headquarter operations under one roof in a new location in Plano, Texas.
The plan was spawned to foster greater collaboration, expedite decision-making, and drive greater performance in order to secure the company's competitive future in North America for the next 50 years. The moves will take place in the next two years and affect 4,500 of the automaker's 30,000 US employees.
Although the campaign is still in the nascent stages, one of Toyota's key goals – to help employees understand why the change is happening – has already been met.
With support from ROI Communication and North Star Communications, the auto brand was able to get 83% of its staffers to understand the rationale for the unprecedented restructuring within 24 hours of the initial announcement, according to polls.
To accomplish this, the company's North American CEO Jim Lentz briefed managers and provided them with a toolkit, which 93% leveraged to engage employees.
Surveys showed that 96% of managers agreed the materials helped them communicate important issues with their respective departments and 98% felt the materials were easy to use.
Lentz also held an all-employee North American town hall, delivered via satellite uplinks across three time zones. He kept the tone and execution bold, but also respectful and supportive, avoiding catchy slogans and a pep rally atmosphere.
An internal website, which included an extensive Q&A section, was created for staffers, along with an external family website aimed at non-Toyota stakeholders, which garnered more than 14,000 unique visits within five days.
One judge noted that the company "delivered its message in an honest and clear way."
"Employees felt they had been given good input and not just feel-good information," the judge continued.